MES-360 Software
Unleash the potential of your entire lens production with MES-360, a continuous improvement software developed for the ophthalmic manufacturing industry.
Increase your labs´ efficiency and productivity by streamlining your processes and optimizing them for best results.
MES-360 for Smart Manufacturing
The unique industrialized and open-platform system collects and stores real-time equipment data, displays historical reports and connects to external systems like ERP for companies who want to centralize all their business data including manufacturing information.
Improved OEE & TCO
MES-360 helps labs understand & improve production efficiency, quality and output. By using data efficiently, Lab teams make the right decisions to improve overall equipment effectiveness (OEE) & total cost of ownership (TCO).
MES-360 monitors machines, tracks breakage & coating batches, and intelligently routes jobs to maximize production efficiency based on real-time data, that is available for multiple people on a variety of devices.
Four modules to fit any optical lab manufacturing needs
MES-360 MM - Machine Monitoring
MES-360 BT - Breakage Tracking
MES-360 CR - Conveyor Routing*
MES-360 CB - Coating Batch Tracking
*only with ISC (Integrated Smart Conveyor)
| | |
| --- | --- |
| Server requirements | Physical or virtual server Min. 2.5 GHz, 8 core CPU Min. 16 GB RAM Min. 500 GB free space on hard drive Min. 1 Gbit network Windows server 2012 32/64 bit Cloud server available |
| Client requirements | PC, ThinClient, TabletPC with WIN OS Min. 2 GHz dual-core CPU Min. 4 GB RAM MS WIN 7/8/10 32/64 bit |
All technical data are subject to change without notice. Verify details with Satisloh
MES-360 MM - Machine Monitoring
Provides accurate, real-time visibility into the lens production process by collecting real time machine data, providing productivity reports with machine utilization details (time producing versus waiting for jobs versus maintenance and other down time) and number of lenses produced.
The system tracks cycle times, errors for each machine, tool usage and provides tool change and maintenance prompts, as well as sends alerts via email when there is a machine problem. All collected information is available in a graphic dashboard, which displays real-time status of machines and jobs.
Add more options to MES-360 MM with additional features:
Maintenance Scheduler: Plan and record maintenance for all machines and peripheral equipment.
Box Coater Action Tracker: Tracks box coater machine door open to door close batch processing time including applied coating process information.

Complete lab information at your fingertips
View in real-time machine status and immediately troubleshoot, if machines are down or not receiving enough work.
Plan and execute proactive maintenance activities and take control of the maintenance activities in simple and reliable way.
Track and manage the status of the machine tools (diamonds, polishing pads, turning wheels) for proactive tool exchange.
Maximize machine utilization & up-time and increase throughput times.
Reduces defects and errors in the manufacturing process, improving productivity and reduces labor and material waste.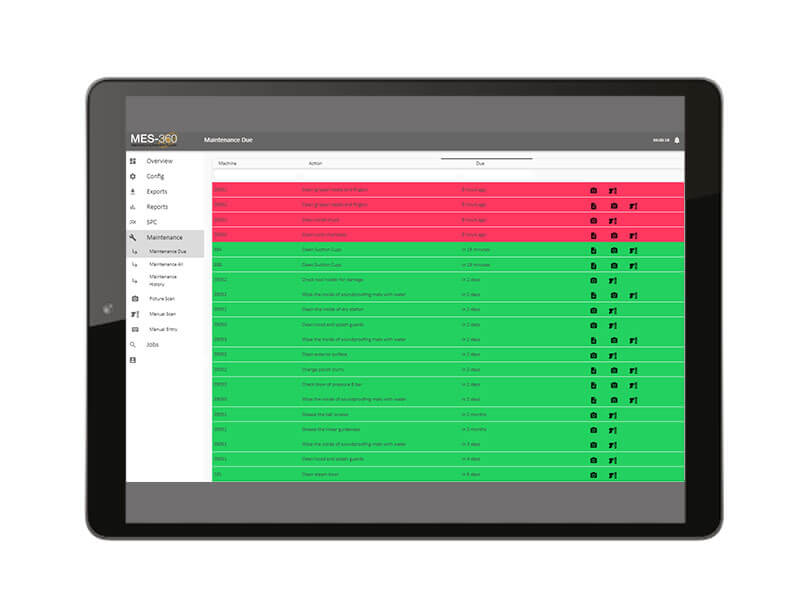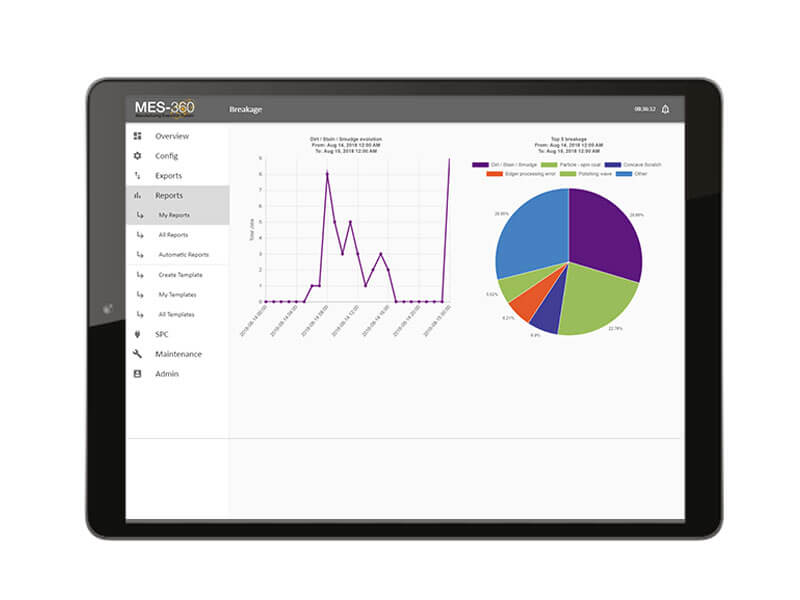 MES-360 BT - Breakage Tracking
The software allows for the quick identification, tracking & reporting of lens breakage in the manufacturing processes.
MES-360 BT detects lens breakage, notifies operator via email or text message and creates reports showing the lens breakage by job history, machine, Rx range, material, power and design integrity (mapping). It also tracks the machine tools usage and links to the potential cause of breakage, interfaces with inspection equipment and cosmetic inspection station.
Add more options to MES-360 BT with additional features:
Manual Inspection: Logs & records cosmetic and other lens rejects to correlate defects and troubleshoot them.

Identify lens quality issues before it becomes a costly recall
Effectively troubleshoots quality issues – tracking problems back to specific machines, lens materials, or Rx's.
Fast reaction in case of breakage due to alerts.
Better yields and lower costs.
MES-360 CR - Conveyor Routing
MES-360 CR* routing software provides three types of routing, BASIC, EASY & PREMIUM for customers with different needs of automation level. MC-360 CR, provides conveyor insights and machine status information, to optimize machine loading, maximize up-time and improve OEE in ophthalmic lens manufacturing plants.
It allows the selection of alternate routing based on machine status, availability, and specific job parameters like lens material, base curves, Rx, etc., plus balances the machine workload. All data is available in a graphic dashboard which displays real-time status of conveyor decision points.
Add more options to MES-360 CR with additional apps:
Tray Check: Monitor tray status on the fly (actual status, next process) with a handheld device.

More production flexibility with dynamic routing
Maximize lens manufacturing equipment utilization by controlling your conveyor system.
Automatically routes jobs equally to all machines increasing production by balancing machine usage - load balancing.
Improve flexibility & productivity with dynamic job routing based on yield, maintenance, machine status, and machine availability.
Faster throughput and delivery times.
Workflow optimization reduces work in progress and traffic on conveyor.
Lower tool costs and faster processing times through routing jobs to specific machines optimized for them.
* only with Satisloh´s ISC (Integrated Smart Conveyor)
MES-360 CB - Coating Batch Tracking
MES-360 CB - coating batch tracking software accurately tracks & collects coating job related data, tracks breakage per batch and machines and generates unique batch IDs to ensure complete tracking through lens clean room batching process.
The system captures real-time process logs, error logs, machine status and maintenance logs per coating machine.
All collected data is used to display clear and configurable dashboard that enable employees to immediately find all the key data.
Bring transparency to your lens coating process
Full traceability and transparency of coating lab allowing troubleshooting and continuous process improvement.
Increased yields for batch required processes.
Increased process productivity
Satisloh experts are ready to answer your questions. We help you make the right machine purchase decision

Satisloh designs and manufactures machines that meet your specific requirements. Request your personalised quote today!