Multi-FLEX-2
Multi-FLEX-2, Satisloh´s next generation of high-volume lens polishing with varied production needs.
It provides full automation with 3 independently controlled polishing chambers. Each chamber provides 2 spindles and an optional tool wear monitoring system. The design allows labs to process up to three lenses simultaneously with different specifications, material, geometry, or surface requirements.
Rx Lens Polishing at its best
Multi-FLEX-2 presents Satisloh's second generation of automated, high-volume, digital lens polishers.
It simultaneously process three lenses in three independently controlled polishing chambers for maximum productivity, versatility and redundancy.
The lens polisher features a universal polishing tool that can be used for all standard lens materials and the majority of Rx ranges.
It features a new tool-spindle design which guarantees highest reliability.
A redesigned tool-reception interface simplifies maintenance tremendously.
Multi-FLEX-2 lens polisher is Satisloh's first polisher which comes in the new state-of-the-art machine design.
Lens polishing with intelligent tools
Two tool spindles per chamber enable a second process step without changing tools or simply increase uptime by using only 1-step.
The universal tool technology optimizes production flow with fewer tool changes and reduces polishing tool inventory and complexity.
Polishing tools with embedded RFID tags ensure the correct loading of dynamic kinematics for the particular tool and process.
New Evolution-U Process
The newest process for all of Satisloh's Multi-FLEX high-volume lens polishers.
It offers the broadest working range available with a single universal tool while maintaining the highest Rx-lens quality standards.
This universal tool technology optimizes production flow with fewer tool changes and reduces polishing tool inventory and complexity.
Service and maintenance friendliness
The machine design features back and front doors that fully open for best accessibility and easiest serviceability.
A Hydra-Boost integrated wash station cleans both, lens and block-piece, and uses up to 40% less water per lens than its predecessor.
Multi-FLEX-2 features an automatic software-controlled polishing chamber cleaning. Cleans the complete chamber and the integrated bellows.
Optional Tool Wear Monitoring
The smart system scans polishing tools and detects damage. Tool Wear Monitoring reduces lens breakage and machine downtime while ensuring best polishing results.
| | |
| --- | --- |
| Productivity: | Up to 100 lenses/hour with Top Speed |
| Working range: | Base curve concave: 0 -14 dpt / extended up to 18 dpt. Lens diameter: 60-85mm / extended down to 48 mm Cylinder: 0-6 dpt |
| Lens materials: | All organic materials |
| Dimensions (wxdxh): | 1810 x 2231 x 2078 mm / 60 x 85 x 82 inches incl. conveyor and signal lamp |
| Weight: | approx. 1400 kg / 3087 lb |
All technical data subject to change without notice. Verify details with Satisloh.
Multi-FLEX-2 Polishing Processes & Tools
Process
NEW Evolution–U
High Luster
Top Speed
Polishing steps
1-step process
2-step process
2-step process
Productivity
Up-to +90 lenses per hour
Up-to 90 lenses per hour
Up-to 100 lenses per hour
Characteristics
For lenses that will be hard coated.
Knife-Edge lenses.
High curve lenses.
For high luster finish.
For lenses that will not be hard coated.
Knife-Edge lenses
Fastest process on the market for Polycarbonate
Availability
Pre-installed
Optional
Optional
Polishing Tool
Universal Extended Range FLEX
Step 1.) Universal Extended Range FLEX
Step 2.) Universal High Luster FLEX
Step 1.) Universal Speed FLEX
Step 2.) Universal Extended Range FLEX
Best performance together with VFT-orbit-2i
Combine Multi-FLEX-2 using the Top Speed polishing process with the VFT-orbit-2i digital lens generator with Performance Package for the fastest and most productive lens-surfacing duo available.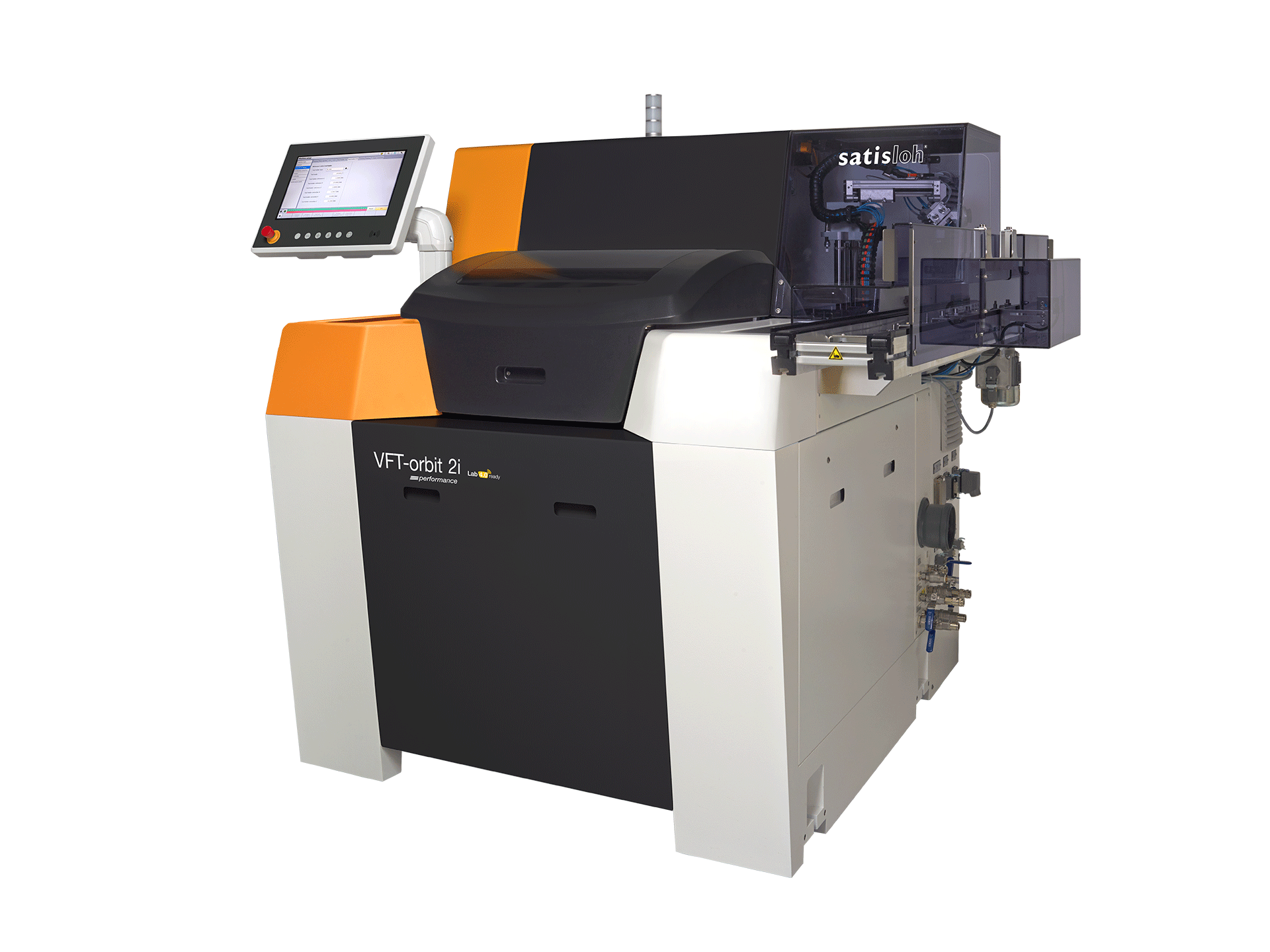 Purchase a Multi-FLEX-2 and get your MES-360 Lite for free!
Your introduction to Industry 4.0 with MES-360 Lite
Increasing transparency and visibility of your equipment performance is one of the key levers to optimizing your production and reducing costs. MES-360 Lite provides daily reports using pre-established KPI to track machine utilization, production throughput, and top 5 errors for all of your Satisloh Lab 4.0 ready machines.
MES-360 Lite is easy to install, needs minimal maintenance (Windows OS updates), and only requires basic computers skills. The system allows up to 50 machine connection.
Upgrade MES-360 Lite to the full version at any time or add individual modules as your needs change.
Satisloh experts are ready to answer your questions. We help you make the right machine purchase decision

Satisloh designs and manufactures machines that meet your specific requirements. Request your personalised quote today!