VFT-orbit-2i
The VFT-orbit-2i is the industry's first intelligent digital lens generator. The fully automated lens surfacing machine features exceptional throughput, quality and reliability -- taking your lab's performance to a new level with predictive maintenance through AI and Machine Learning capabilities.
Unlock the full potential of smart lens generating for your business
VFT-orbit-2i covers all generating processes and more: lens milling, turning, cribbing and engraving. This generator incorporates Artificial Intelligence and Machine Learning technologies for streamlined diagnostics and predictive maintenance, helping keep the VFT-orbit-2i in optimal condition for highest quality surfacing.
Minimize unexpected breakdowns with VFT-orbit-2i's optimized reliability and AI powered predictive maintenance
Gain valuable insights and optimize operations effortlessly through simplified data logging and remote support
With breakthrough B-axis intelligence, potential issues are detected and addressed, ensuring axis protection
Eliminate compromises on feed rates during the process with the stronger and even more robust new milling spindle
Achieve unsurpassed surface accuracy in the turning process with Satisloh's Fast-Tool with voice-coil technology
Save time and eliminate manual adjustments with Auto-calibration
Options for even better performance & customized requirements
A 2nd Fast-Tool enables the use of different turning tips for diverse materials.
Through Tool Cooling, a patented Satisloh technology, provides highest surface accuracy and extended tool life
Mechanical engraving
Performance Package
| | |
| --- | --- |
| Productivity: | Up to 100 lenses/hour (with performance package up to 120 lenses/hour) |
| Working range: | Concave - milling: - 14.5 dpt. Concave - turning: up to - 30 dpt. Convex - milling & turning: + 30 dpt. |
| Lens material: | All organic materials |
| Dimensions (wxdxh): | 1,270 x 1,501 x 1,832 mm / 50 x 60 x 72 inches |
| Weight: | 2200 kg / 4850 lbs |
All technical data subject to change without notice. Verify details with Satisloh.
VFT-orbit-2i Performance Package
Adding Performance Package to a VFT-orbit-2i increases throughput by 10-20% depending on lens material mix. The temperature and flow control sensors create a faster feedback loop for highest consistency of lens quality.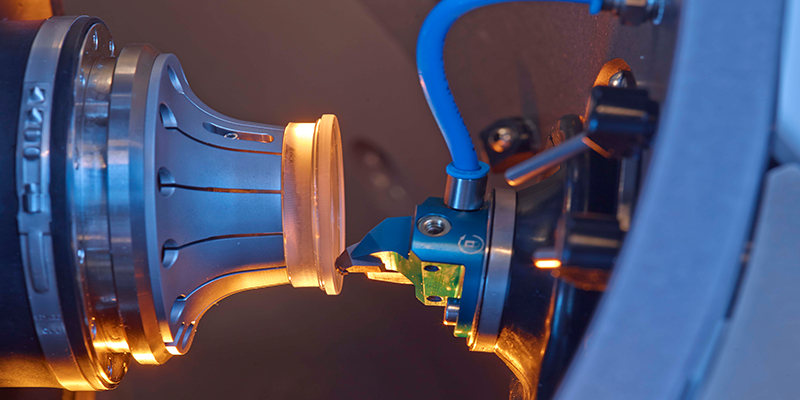 Purchase a VFT-orbit-2i and get your MES-360 Lite for free!
Your introduction to Industry 4.0 with MES-360 Lite
Increasing transparency and visibility of your equipment performance is key to optimizing your production and reducing costs. MES-360 Lite provides daily reports using pre-established KPI to track:
machine utilization
production throughput
top 5 errors
for all of your Satisloh Lab 4.0 ready machines.
MES-360 Lite needs minimal maintenance (Windows OS updates) and only requires basic computers skills. The system allows up to 50 machine connections.
Upgrade MES-360 Lite to MES-360, the full version, at any time or add individual modules as your needs change.
Satisloh experts are ready to answer your questions. We help you make the right machine purchase decision

Satisloh designs and manufactures machines that meet your specific requirements. Request your personalised quote today!