Satisloh 100 Years
Honoring the Past, Creating the Future!
2022 marks Satisloh's 100th Anniversary. While we are incredibly proud of this achievement, we are also humbled by the fact that few companies reach this major milestone. We know we never could have made it without the help and support of countless people along the way. We owe our longevity to the customers, suppliers and employees we've worked with over the years.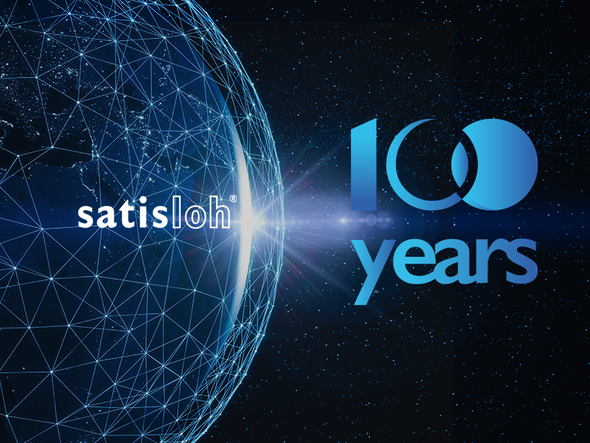 100 Years Around the Globe
Celebrate with us our first 100 years during trade shows & events around the globe.
The History of Satisloh
Sustainable development, technological advances and the commitment to ethical standards has carried us forward and always will.

1922 Foundation of the Mechanical Workshop, Toolmakers & Locksmith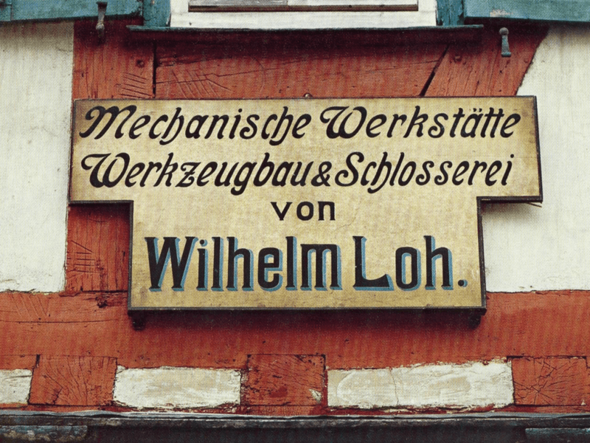 March 17, 1922, Wilhelm Loh went into business for himself, founding a mechanical workshop. The founding period of the Wilhelm Loh company was marked by the consequences of the first World War, a time when economic depression and hunger prevailed in many parts of Germany. It is therefore not surprising that his small company initially engaged in manufacturing machines for canning jars. In addition, special wheel lathes were used to produce cast-iron lapping tools for numerous local optical factories. The production of optical lenses at that time by lapping with emery of different grain size required for each lens radius to be produced whole sets of special lapping tools made of gray cast iron (then called "grinding shells") and corresponding polishing tools (then called polishing shells). Each of these tools required a complementary shaped grinding or pressure tool in addition to maintaining the exact shape of the spherical surface. Later, Loh also manufactured spindles for optical machines.
1925 New Factory for Micro Lenses & Prisms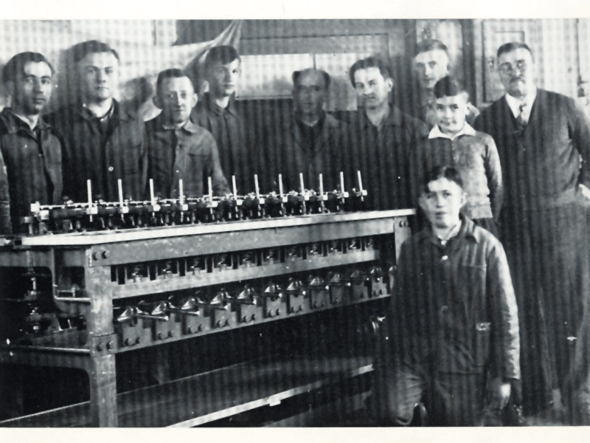 Due to the initial success and the increasing demand for micro-lenses and prisms for the local microscope manufacturers, the company moved into a new factory building in Friedenstraße only three years after its founding. Here, multi-spindle lever machines for lapping and polishing micro-lenses, as well as for machining plano surfaces on prisms were initially manufactured. The photo shows Wilhelm Loh and his employees with a 12-spindle lever machine.
1928 Optics for Cameras, Binoculars & Telescopes
The optical machines initially produced at Loh focused mainly on processing microscope optics, this spectrum was greatly expanded with the popularity of 35 mm photography (Leica), binoculars and telescopes. The optics for these products required powerful, larger lever machines with which optics of larger diameters could also be manufactured individually and cemented onto supporting bodies. Loh initially developed these machines for the domestic optical industry, with which it worked closely on machine development.
1950 New RF1 Radius Milling Machine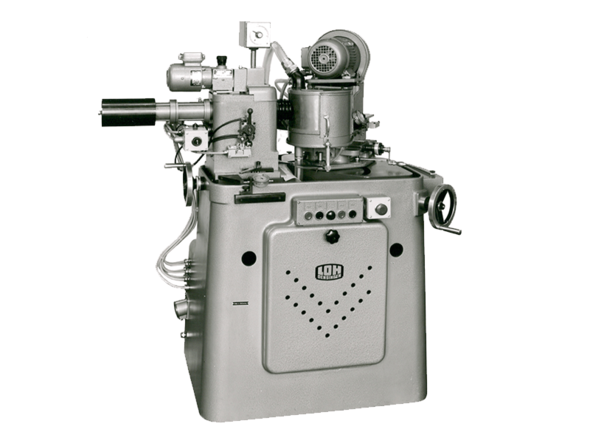 The first diamond-tipped grinding tools were developed during World War II. The commercial production of sintered, metal-bonded diamond cup grinding wheels revolutionized optical production at the beginning of the 1950s. Lapping with emery and a large number of "grinding bowls" specially adapted to the emery grain size were no longer necessary. Diamond cup grinding wheels made it possible, for the first time, to grind spherical lenses of any radius, by positioning them appropriately in the machine. Angular and lateral tool spindle adjustment of the "Radius Milling Machine" RF1 determined the lens radius. The axial infeed of the workpiece spindle produces the center thickness of the ground lens. The infeed speed was force-controlled by a pre-loadable spring via a sequence curve. The lens itself was held in a collet on a rotating workpiece spindle during the grinding process. Alternatively, it was also possible to grind several lenses cemented onto support bodies. However, the grinding quality of the machined lens required an additional lapping or fine grinding operation before polishing. In subsequent years, versions of the RF1 with automatic workpiece change were introduced. The larger RF 2 worked on the same principle and was designed for grinding large single lenses and multiple machining on support bodies.
1955 Machines for Optical Manufacturing & Glasses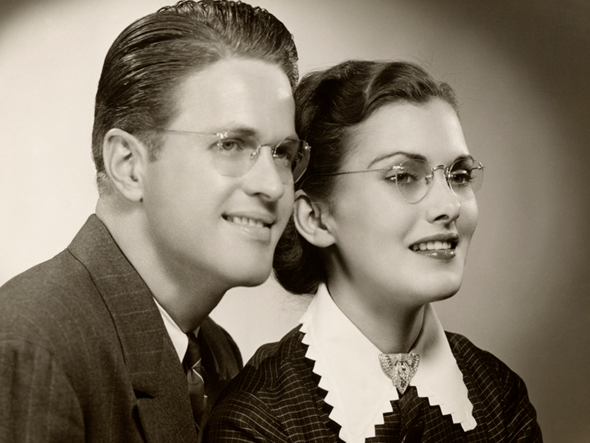 After the Second World War, there was an increased demand for eyeglass lenses in West Germany. During this time, the Loh company was not only involved in manufacturing machines for processing eyeglass lenses, but also producing eyeglass lenses. This field of activity was obvious, especially since the development of new machines was always accompanied by the development of processing technology.
1965 Foundation of Satis Vacuum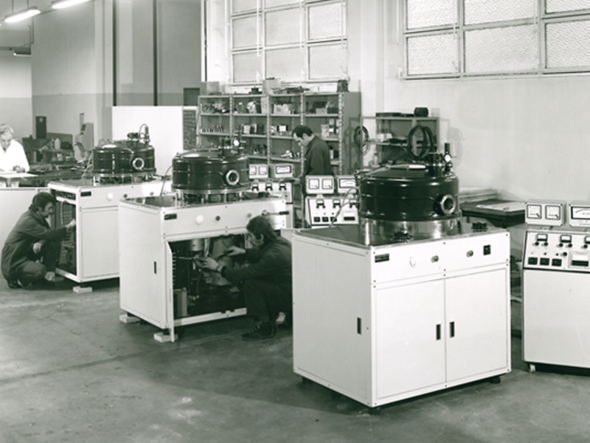 Satis Vacuum is founded by Delio Ciparisso. Coating machine production for the ophthalmic industry starts in the basement of an apartment house in Italy, with management and administration in Zurich, Switzerland.
1970 Developments in Surfacing & Coatings
Satis Vacuum begins its worldwide goes global with a small coating unit for 6 lenses; can coat monolayer antireflection and in-chamber tinting for mineral lenses.
Satis Vacuum starts building Bell Jar Coating machines with the introduction of a flip-over system & new in situ measuring methods, leading to international success.
Lenses with astigmatic effect initially, astigmatic (toric) lenses could only be produced by machining the convex outer surface of the lens. Depending on the base radius, this required a number of different size ring carriers onto which several lenses had to be cemented in order to create the cylindrical effect in a lapping process. This processing took a very long time and was cost-intensive due to the necessary tooling. During this time, Loh hired Mr. Erhard Brück, the former design manager of the Special Machines & Processes Optics Department at Leitz, as their new design manager.
The 1° Drum Coater, FET 150, is introduced to the market. In a short process time it coats a gradient or solid coating on organic lenses for sunglasses. Bell jar 8xx family is launched: models 815, 822, 830, 850 and 660. The 660 already used an Electron Beam Gun and organic CR39 lenses were coated using this device.
The 1° Box Coater generation is launched and models 700 and 720 can produce multilayer coatings on mineral and organic lenses (CR39).
1980 Satis & Loh cooperate to offer complete RX Lab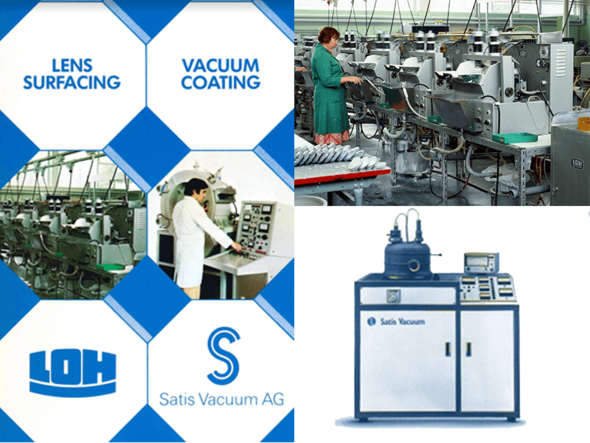 Together with ROAG, former ultrasonic cleaning systems manufacturer, Satis and Loh cooperate as a leading manufacturer and supplier of a complete RX Lab in one package.
Loh develops LOH Toromatic CNC, first-ever CNC machine for prescription lens processing.
Satis Vacuum patents registration for a vacuum coating process for ophthalmic lenses.
The 2° Box Coater generation family is launched: models 400, 600, 725, 900.
Satis Vacuum starts building washing systems T-10, T-20 and T-40. Introduce the 1° generation of 900 model.
1990 New Precision Optics Machines & Manufacturing Location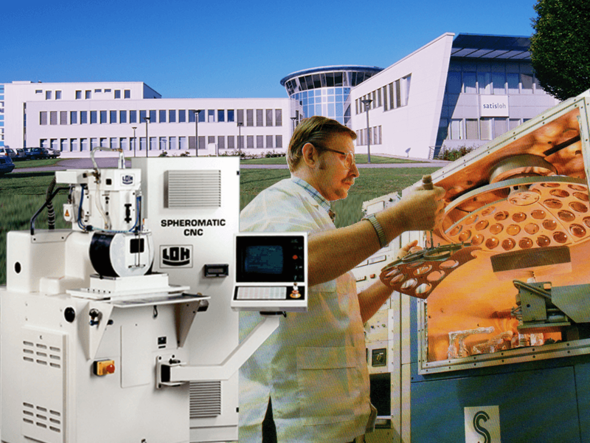 Loh moves to a new location in Wetzlar with bigger production capacity: Wilhelm-Loh-Straße 4.
New Spheronorm machines for pre- and fine grinding precision optics are launched.
Loh patent application for the V-machine process (Jochen Diehl, Ronald Lautz und Karl-Heinz Troß).
Satis Vacuum launches the Box coater "DL" DESIGN LINE generation: 1200-DL, 900-DL, 1200-DLX, 900-DLS, MC-260/360.
Loh North America relocates to new headquarters in Germantown, Wisconsin.
2000 - 2005 Merger Satis Vacuum & LOH full solution provider
Loh launches the world's first industrial edger for ophthalmic lenses, the ES-2, with fully integrated grooving. All processing steps – roughing, finishing, measuring, beveling, pin-beveling, polishing and FLG (Fast Lathe Grooving) – are done in only one process cycle with a single tool package.
Satis Vacuum introduces an easy-to-operate system, the 1200 TLF ophthalmic coater., It's one of the key factors for Satis' remarkable success in the ophthalmic industry.
2005 Satis Vacuum & LOH Merge. Satisloh is a full solution provider for the international optical industry, offering surfacing machines for both ophthalmic and precision optics labs as well as coating machines
New production plant opens in Zhongshan, China.
2006 - 2010 Precision Optics & Ophthalmic Technology developments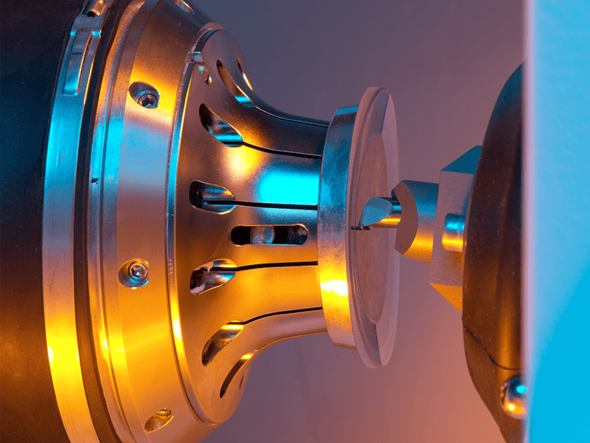 The introduction of a complete Precision Optics product line, from surface finishing to coating: 1200-TLF-PO, a high vacuum coating system; SP-100, sputter coater for flexible production of small series; G-Systems range for complex optical processing, SPM-25 & SPS-25 micro-optics grinder and polisher; and CM-2 Centering Machine.
New VFT-ultra & VFT-compact: free-form generators for ophthalmic lens manufacturing with revolutionary fast-tool turning technology and a unique system design.
New Precision optics grinding and polishing machines, SPM-60 & SPS-60, tailored for efficient production of spheres, aspheres and more.
VFT-orbit – fully automated new generation of All-Format generators for both conventional and free form surfaces.
Nucleo, a new and revolutionary alloy-free blocking system for ophthalmic lenses. The cornerstone for OBM™ "On-the-Block Manufacturing System" allows a lens to be processed all the way through surfacing, hard-coating, AR coating and edging on a single block.
2011 - 2021 International Expansion & Technology Developments
The introduction of 1200-DLX & MC-380-X, X-Generation of Coating Solutions, anti-reflective coating technology and processes for ophthalmic lenses.
Micro Line: an entire ophthalmic production process, from surfacing, through coating to the point of finishing.
C-300 is the first centering machine to combine the benefits of force-controlled grinding with the full flexibility of CNC technology. The C-50 offers excellent processing for micro to mid-size precision optics.
Satisloh wins German Federal Ecodesign Award with its ART/Nucleo (Alloy Replacement Technology) for heavy metal-free lens manufacturing.
CM in Brazil joins the Satisloh Group, renamed CMsatisloh.
Satisloh launches the VFT-orbit-2, next generation digital lens generator.
3rd international Satisloh User Group Exhibition "SLUG-Fest", 150 guests, lens manufacturers and partners from 38 different countries attend.
Satisloh donates 50,000€ to Light for the World commemorating production of their 1,000th VFT-orbit.
SPM-10 & SPS-10, two new solutions that extend the grinding and polishing production capabilities to include complex, small lenses and micro optic aspheres.