Satisloh at Vision Expo West 2019
September/19/2019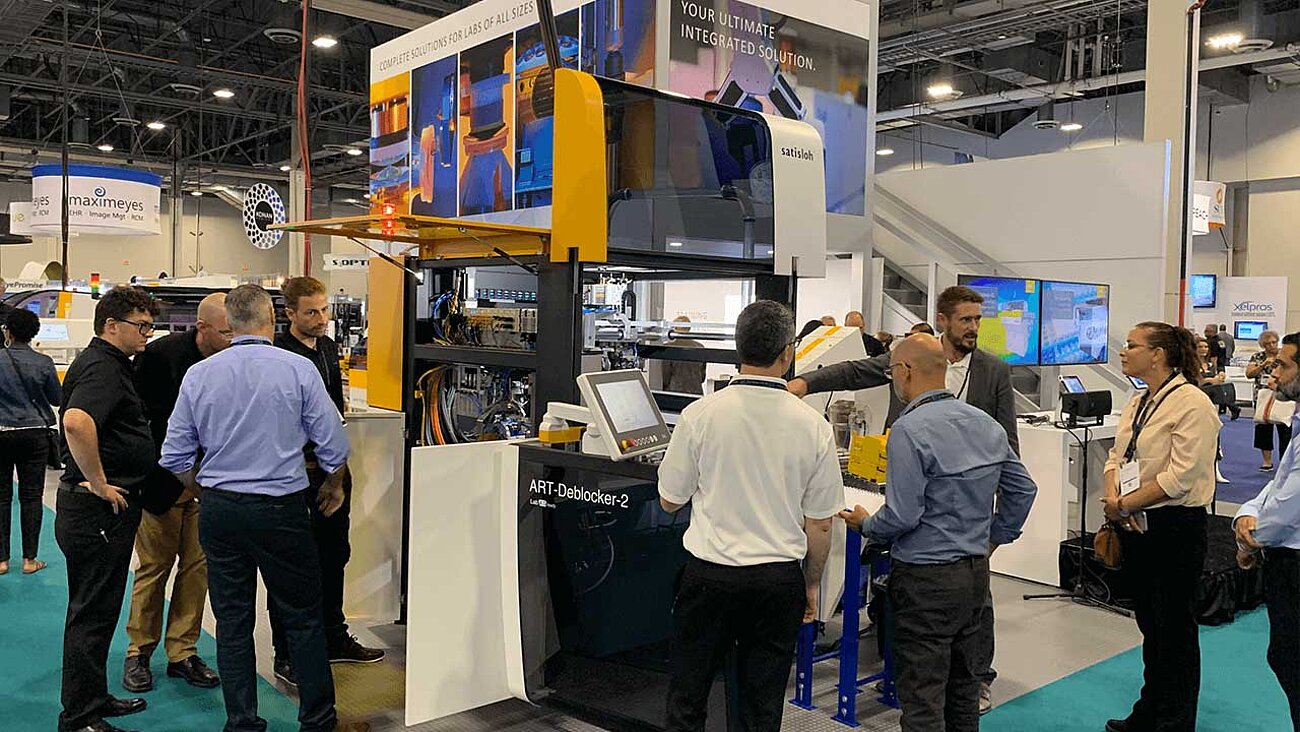 Events
Satisloh, a global leader in manufacturing solutions for both ophthalmic and precision optics markets, exhibited at Vision Expo West in Las Vegas
Las Vegas, NV, USA September 20th, 2019 ‒ Satisloh, a global leader in manufacturing solutions for both ophthalmic and precision optics markets, exhibited at Vision Expo West in Las Vegas. Satisloh's new double-decker booth was a hive of activity at Vision Expo West as the company demonstrated three new machines. At their show-opening reception, the company premiered not only their ART-Deblocker-2 but also the company's fresh new industrial design.
"We're committed to providing environmentally-friendly solutions and are pleased to present ART-Deblocker-2, the next generation of deblocking for our breakthrough Alloy Replacement Technology (ART). The machine is designed for maximum robustness in multi-shift operation, significantly faster than its predecessor and, since all pumps are integrated inside the machine, has an 18% reduced footprint including peripherals. Because it's a fully-automated waterjet deblocker, labs can completely automate their surfacing operation –increasing throughput and efficiency," said Rich Hughes, President of Satisloh North America.
Satisloh further expanded their ART line with the addition of ART-Block-Pod, a fully automated block-piece handling system. The intelligent storage system automatically selects the correct blockpieces for each job and places them into the tray, eliminating manual intervention at job launch. At the end it takes the blocks back out and stores them, closing the loop for complete "no touch" production.
"This innovative technology fills a need in an often overlooked production area – streamlining handling functions. With a multi-axis handling system, it identifies, picks, and stores all ART block-pieces – supporting up to four high-speed generators, launching 200 jobs per hour," said Andy Huthoefer, Head of Marketing and Product Management.
Rounding out their new machine offerings is a new excimer laser Lens-Engraver-EC. "Our new laser solution engraves semi-visible markings in highest quality on all lens materials. And because it features fully automatic process control and stability, it ensures repeatable and outstanding engraving results – every day and every shift," said Hughes. "Unlike other lasers on the market, this advanced system does not cause thermal stress, micro-cracks, or coating delamination and has engraving times of less than three seconds per design". Said Huthoefer, "These three new additions to our portfolio fall perfectly in line with our overarching strategy of Complete Solutions Provider for optical manufacturing labs."
For more information about Satisloh's ophthalmic solutions and services visit satisloh.com.
Back
Satisloh experts are ready to answer your questions. We help you make the right machine purchase decision

Satisloh designs and manufactures machines that meet your specific requirements. Request your personalised quote today!