Transitioning from alloy to ART is easy
With ART (Alloy Replacement Technology) Satisloh offers an environmentally-friendly alternative to traditional alloy blocking. ART utilizes a universal, reusable plastic block-piece and a UV-curable adhesive.
Tape for frontside protection is no longer needed. Using this synthetic material combination eliminates hazardous substances like heavy metals and their discharge into the water cycle, helping protect both, environment and staff.

It's time to make the move!
5 Reasons Why Labs Should Move To ART:
1. Achieve Operational Efficiency & Speed
Less process steps: eliminates taping, cool-down time, and detaping

No cool-down time means:
Up to an hour of process time saved vs. alloy.
Smaller lab footprint (no stackers/destackers or cooling conveyors required for holding trays during cool-down).
Full process automation including automated block-piece handling. Labor reduction by up to 70% compared to manual alloy.
ART enables seamless, automated lens processing from generating all the way through hard and AR coating (Express AR technology).
2. Increase Yield & Improve Lens Quality
Higher lens surface support for more precise surface cuts and reduced chatter marks.
Feedback loop: ART-Blocker-A probes blank front side and feeds actual measurements to the LMS system for precise recalculation of the back surface.
Spatial blocking for precise lens positioning means highest accuracy of prism and thickness.
3. Reduce Ecological Footprint
ART is free of toxic Lead and Cadmium. This means no water contamination and safe working condition for operators.
Up to 5 times lower water usage compared to automated alloy blocking: ART-Deblocker-2 with WFS2 (Water Filtration System) recirculates water (alloy deblockers do not) and no detaper is required.
Up to 50% lower energy consumption. Only two machines with ART (blocker, deblocker) vs. four with alloy (taper, blocker, deblocker, detaper). No alloy tank heater. No cooling plate.
ART uses 99,99% less mineral materials than alloy avoiding the depletion of valuable resources, such as Bismuth and Indium.*
The use of ART instead of alloy reduces the impact of blocking on climate change by 35%.*
* Life Cycle Assessment by RDC environment. Derived from a simplified LCA (not ISO-compliant). The development of a peer-reviewed ISO-compliant LCA study is in process.
4. Equipment Compatibility
ART's OPS blocks are compatible with standard equipment collet chucks, allowing mixed production of ART and alloy blocked lenses.
Open system makes transitioning from alloy to ART easy. A gradual transition is possible.
5. Peace of Mind
Secure supply chain

Adhesive production on two continents ensures uninterrupted availability.
Alternative raw material sources are available.

Stringent quality control of all ART components.
Adhesive price secure and not subject to market variation like alloy.
200 successful ART installations worldwide, 250+ million good lenses produced.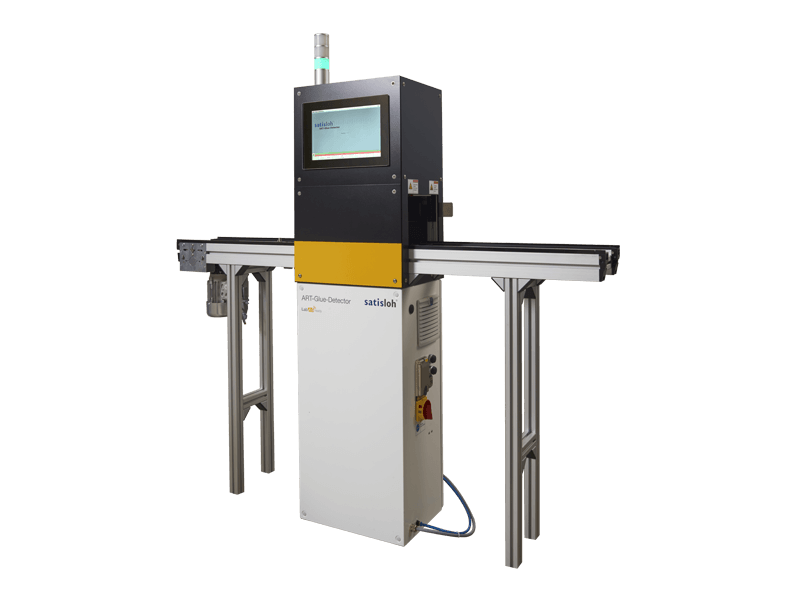 ART-Glue-Detector
An optional peripheral machine, detects glue residues after deblocking ensuring best lens quality.
Satisloh experts are ready to answer your questions. We help you make the right machine purchase decision

Satisloh designs and manufactures machines that meet your specific requirements. Request your personalised quote today!